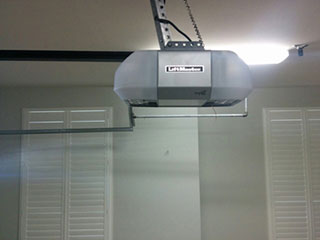 An opener is what allows your garage door to operate automatically. The industry's leading brands, such as Chamberlain, Marantec, and Clopay, have a lot of different models of this type of unit, all of which with unique features that can help guarantee your home's safety and security. When something goes wrong with these devices, you can count on our team to provide you with an excellent and affordable solution.
Highly Skilled Technicians
Our company actually specializes in Genie and Liftmaster openers and our technicians respond with incredible speed to any emergency call. Our crews always come well equipped and carry all the necessary equipment and replacement parts they need to troubleshoot, repair and even - if the situation merits it - replace your opener.
Fixing Common Malfunctions
An opener can suffer from a wide range of problems, ranging all the from the electrical to the mechanical. The most common ones are usually a worn out motor gear, something to do with the circuit board, or - if you have a chain-drive opener - an issue that requires chain adjustment or repair. Our team can take care of all of these problems, as well as any other ones, rare as they may be. We've been repairing openers for a very long time, and our vast wealth of knowledge and experience have made us experts in this field.
Regular Maintenance and Safety Tests
Just like any other complex device, your opener could do with a little maintenance every now and then. Our technicians will fully inspect all of its components, from the motor to the pulley system, and we'll repair on the spot every minor or major issue. We'll also test your opener's safety sensors while we're at it, and make sure that they can properly detect an obstacle in the door's path. These components are crucial, as they are in charge of ensuring your safety, but they are also very delicate, so an expert is required to realign them or replace them.
Contact Our Team
Whatever type of problem you are experiencing, you can always be sure that Garage Door Repair Encino will be able to help you out. Our professional team can even help you choose a new opener for your home, and make sure you take full consideration of all the influencing factors that may not seem clear at first. Call us today.
Need more? We also provide:
Garage Door Troubleshooting Services
New Garage Door Clickers & Remotes
Garage Door Cable Replacement
Garage Door Off Track Repair