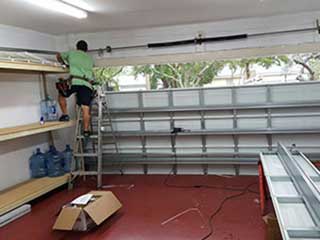 There's an old saying, "prevention is better than the cure", and we find that it stands doubly true for electronic and mechanical devices, not only for human beings. That's why we offer our customers regular service appointments, during which we inspect every inch of their door system and apply various optimizing procedures that make sure minor problems get nipped in the bud.
Track and Roller Maintenance
Your garage door tracks and rollers go hand in hand when it comes to servicing them, as they are intrinsically involved with each other's job. Our team can make sure your rollers aren't getting too worn and that your track doesn't develop any major bends or becomes misaligned. If they are, count on us to repair or replace them on the spot.
Regular Spring Services
The springs that support the weight of your door panels are arguably the most crucial part of the entire system, apart from the actual door itself, of course. Due to the heavy tension they are under on a regular basis, they can be very susceptible to wear and tear damage, and must be cared for routinely. During our maintenance appointments, our team performs both spring adjustment and lubrication, to ensure that their weight distribution isn't overstraining these important components, and that their operation remains smooth and efficient.
Inspecting The Opener
As essential the engine that powers your system, the opener also requires some routine TLC in order to remain optimal. We'll inspect its motor and circuit board, to make sure nothing has worn out or got fried, and examine its pulley system to see no damages have been sustained. Another important aspect of our appointments is testing the safety sensors. These components are in charge of detecting an obstacle in the door's path, so their alignment must be regularly checked and adjusted.
Count On Us
Our experts at Garage Door Repair Encino specialize in taking care of complex automatic overhead doors, and the regular maintenance services we provide can make sure that your system continues operating optimally for a very long time. Call us today.
But wait, there's more! We also offer:
Part Replacement & Lubrication
Genie Garage Door Openers
Broken Garage Door Spring Replacement
New Garage Door Installation