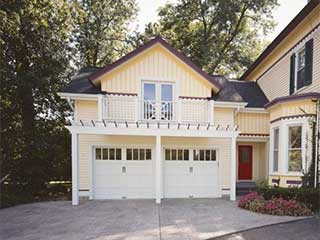 Amarr offers a wide selection of steel garage doors. Each model has a unique style, structure, and design. All of them can receive wind load reinforcement if required (as per the building codes of your local area).
The Carriage House Style
Amarr has a wide selection of doors in the carriage house style, including such models like the Classica, and Carriage Court, as well as the Oak Summit series and Hillcrest. Each door can be of different sizes and belongs to either the raised panels category or the recessed panels one. Most models feature exterior door handles for an authentic look.
The Raised Panels Option
Models of this type have steel layers with a different gauge. It is possible to choose a unit with a thicker than average steel layer. There is a choice between three different structural options within the collection of steel models. The single-layer structure comes without any kind of insulation. The double-layer option includes a layer of insulating material behind the front layer of steel, while in the triple-layer structure, the insulating material is set between two layers of steel.
Different Insulation Methods
There are two types of insulation available with Amarr steel garage doors. Polyurethane foam is used to fill the spaces between the panels. It has high R-value and is naturally resistant to moisture and mold among other threats. The other option is a solid polystyrene panel which is environmentally friendly. It is usually installed between the door's layers like a wedge or a buffer.
Style is Everything
Each of the steel models comes with different panel design and color options. Together, they can form tens and even hundreds of different combinations. In models that have decorative elements, it is possible to select the design of these features as well. Remember to contact our experts at Garage Door Repair Encino for more useful advice and information.